F.R.I.E.N.D.S is one of my all time favourite TV shows. I grew up watching it and it owns a piece of my heart. Since I'm currently re-watching friends for the thousandth time, it seemed like the perfect time to do this tag.
The tag was originally developed by ALittleButAlot.
Ross: Seems harmless, but problematic
Name a book you had problems with
Did I Mention I Love You?
I read this way back in 2019 when I was first attempting to get back into reading and experimenting with what I liked and boy, this book was a lesson in what I don't like in a book. The premise is that 16-year-old Eden falls in love with her "bad boy" step-brother. What ensues is a "love story" built on toxicity, secrecy and manipulation. It promotes the single message that I despise most in romance – if a girl loves a bad boy enough she can save him. This book also *attempts* to address a bunch of complex issues around addiction, body image and child abuse but does so terribly.


Monica: neat and tidy
Name a book/series that ends satisfyingly
The Hobbit
Tolkien knows how to write satisfying endings. I love the falling action in The Hobbit and the way in which Bilbo's character arc ends having come full circle with him returning to The Shire with an entirely new perspective from his adventures.
Chandler: funny and relatable
Name a firm fave
Wuthering Heights
At this point, I think I've established that Wuthering Heights is my all time favourite book. It owns my heart and soul, and I will read it over and over and continue to love it. I'd be surprised if any other book in my life will knock this one from the top spot.
Phoebe: reliable and friendly
An author you always rely on
Joe Abercrombie
I've read five books from Joe Abercrombie so far and really liked all of them. Although none of them would make my top 10 favourites, I love Abercrombie's writing style, tone, world building and character work. Whenever I pick up a book from him, I know what I'm getting and I know that I'll enjoy it.
Rachel: she grows on you over time
Name a book/series that's grown on you over time
This Is How You Lose the Time War
I started out strongly disliking this book and almost DNFd it, but fell in love with it around the mid-way point and would love to re-read it in the future. You can read my full review of This Is How You Lose the Time War here.
Joey: Looks good on the outside
A book whose cover is better than its contents
The Binding
Absolutely stunning cover; average content. This book was the pick of the month for my book club with friends and we were all drawn to this gorgeous cover. The dark purple and blue tones with the gold is just stunning. Although the premise is interesting, unfortunately, the execution is sloppy and it doesn't reach its full potential.
Gunther: always there, always ignored
A book you've had on your TBR forever
My Cousin Rachel
I've wanted to read this since the moment I finished Rebecca. I adore Daphne Du Maurier's writing style with its gothic tone ad she expertly crafts suspense and mystery. If it wasn't for the fact that this book is a future read for my book club, I would've read it by now. But I'm waiting for the month that it gets pulled out of the hat! I'm excited to finally read it and to buddy read it with friends.
Carol and Susan: Keeping it diverse
An LGBT+ book you love/hate/want to read
A Little Life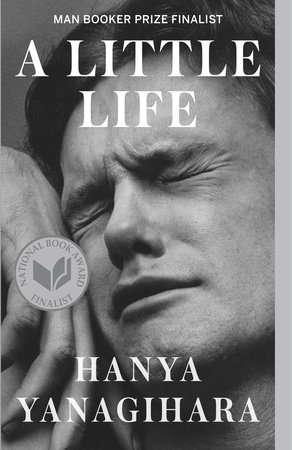 This book has been huge in the book community in recent years and the share amount of discourse around it has intruiged me beyond belief. I've heard so much about how heartbreaking this book is so I'm a bit nervous about the emotional reaction I'll have but I like my books to be emotional and explore dark, complex themes so I simply have to check it out.
This was SUCH a fun tag! The prompts were unique and connected well to the characters. If you like F.R.I.E.N.D.S and haven't done this tag before, I tag you to do this on your own blog 😊
Stay safe, my lovelies and keep reading.