Book analyses are essays which closely and critically examine specific characters, relationships, topics or themes in a book.
❗ Spoilers ❗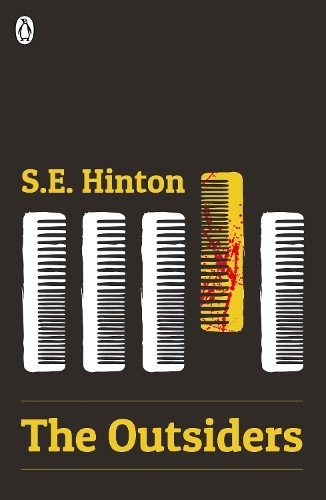 Read my spoiler-free review of The Outsiders here.
Content warning: Mentions of classism, child neglect, child abuse, suicide.
The Outsiders is a complex insight into the class system that overlooks, devalues and scapegoats the working classes. It gives voices to the forgotten people that live on the fringes of society and are deemed unimportant. Ponyboy, Soda, Darry, Johnny and Dally are ostricised, stigmatised and labelled "white trash" or "scum" because of the communities they live in and their family backgrounds, both of which they have no control of. They're villanised by their communities who see them only as caricatures based on their prejudices and societal stereotypes.
You greasers have a different set of values. You're more emotional. We're sophisticated-cool to the point of not feeling anything. Nothing is real with us.
In this story, Hinton humanises the people we have a tendency to dehumanise in our society. We can look at the actions of the characters in The Outsiders and say, "They're terrible people that deserve to be locked up; they've lied, fought, killed, committed arson etc.", but that's an injustice to those characters because it fails to consider the context and context is always important. Ponyboy, Dally, Johnny, Soda, Darry and Two-Bit are young boys – children – who are impoverished, living in unsafe homes with volatile family units, absent or neglectful parents and communites that are plagued by substance abuse, crime and poverty. This does not justify the characters actions but it does humanise them and that's important for so many reasons.
I could picture hundreds and hundreds of boys living on the wrong sides of cities, boys with black eyes who jumped at their own shadows. Hundreds of boys who maybe watched sunsets and looked at stars and ached for something better. I could see boys going under street lights because they were mean and tough and hated the world, and it was too late to tell them that there was still good in it, and they wouldn't believe you if you did. It was too much of a problem to be just a personal thing.
In our society, we rely so much on boxes and categories and labels. We want everything and everyone to slot neatly into the binaries that we've created – male or female, black or white, gay or straight, good or bad, rich or poor – but none of these labels or binaries can ever fully capture the nuances of our lives or what makes us who we are. And that complexity of what it is to be human in a world that repeatedly forces us into various boxes and demands that we conform to those boxes or risk social isolation or loss of identity, is what Hinton achieved with this novel. She took a stigmatised group (young, white, poor males) and a stereotypical situation (crime, murder), and approached it from an angle that deconstructed these things to humanise the characters, without glossing over their awful actions.
Dally is a perfect example of this. He's multi-layered. On the surface a stereotypical violent, criminal and self-serving jerk. But also a young kid that has lived an unstable life without parental guidance or care, who was forced to physically toughen up to survive in prison and was incredibly vulnerable. He valued self-preservation but was fiercely loyal and capable of selflessness and sacrifice for his friends. His relationship with Johnny encapsulated his vulnerability and reminded us how alone and unloved Dally is. Once Johnny was gone, he could no longer bear to live in the world. This fact alone demonstrates how devoid Dally's life was of love and meaning, and his fate was heart breaking because of how young he actually was. His backstory and relationships with his friends doesn't work as an excuse for the dark parts of Dally's character but it did take him beyond the archetype of his character and deconstructed the stereotypes surrounding him, challenging even Ponyboy's perception of Dally.
Dally didn't die a hero. He died violent and young and desperate, just like we all knew he'd die someday.
Words hold so much weight and when we hear a word we immediately attach meaning to it. Labels and categories, in particular, can be very loaded words because they often come hand in hand with biases and prejudices. We categorise and label ourselves and others often based on surface-level information and those labels or categories come with a long history and very little context on an individual level. For example, we might assume that a person that has been to prison is morally corrupt, dangerous and perhaps "less than" someone that hasn't been to prison. And in the moment when we are making that snap judgement, we fail to account for that person's individual circumstance and identity beyond the "criminal" label. Once that label has been attached, we struggle to divorce our prejudices from the reality of context of what makes that person who they are, leading us to dehumanise them and perceive them as a living embodiment of that stereotype.
That's why people don't ever think to blame the Socs and are always ready to jump on us. We look hoody and they look decent. It could be just the other way around – half of the hoods I know are pretty decent guys underneath all that grease, and from what I've heard, a lot of Socs are just cold-blooded mean – but people usually go by looks.
For me, The Outsiders is about challenging these stereotypes. The novel goes beyond what it appears to be on the surface to provide social commentary on the norms and stereotypes that exist in our society and challenges them in a humanist way. It reminds us that despite our differences and the words, labels and categories we use to "other" each other and separate ourselves into subgroups, there's an essential human connection between all of us, that we should always prioritise. This involves taking the time to focus less on our differences and more on our similarities, to challenge our prejudices and our judgements, to view people with openness, compassion and empathy and to account for the whole person beyond labels. The characters of The Outsiders represent the voices and lives of so many poor children that are abused or neglected, shunned and ostracised from society, that are derogatorily labelled before they've even reached adulthood and become a self-fulfilling prophecy. Ponyboy is the exception to that rule. He is the hope in the book, the one whose eyes are opened to this reality. He sees beyond the limits of his class to connect with Cherry and sees his brothers and friends as people, not just Socs or criminals. Ponyboy is the catalyst for the message about the importance of seeing beyond stereotypes to see the person and enables the reader to connect to that same message.
It seemed funny to me that the sunset she saw from her patio and the one I saw from the back steps was the same one. Maybe the two different worlds we lived in weren't so different. We saw the same sunset.
Stay safe, my lovelies and keep reading.