Over the last week it's dropped bitterly cold in the UK and snow is forecasted for the upcoming week which means lots of layers; I have my gloves, scarves, hats and thick socks at the ready 🧤🧣🧦
So of course, today I'm doing the Winter is Coming Book Tag ❄️ ☃️🧣🧤(admit it, you read that in Sean Bean's voice 😝).
Expect a lot of winter/Christmas themed tags in the lead up to Christmas ☺️🎄
This tag was originally developed by Katherine Barka on YouTube.
Snow: it is beautiful when it first falls, but then it starts to melt.
A book/book series that you loved at the beginning, but then realised you didn't like it anymore.
Throne of Glass – Sarah J. Maas
I owe a lot to the Throne of Glass series. I read the first book in the series in 2019 as a buddy read when I was at the beginning of my journey of rediscovering reading. I was immediately pulled into the series and devoured all seven books within one year. It was one of the earlier reading experiences I had that reminded me just how fun reading could.
However, the more that time has passed and the more books I've read, the more I've realised that overall I dislike the series. Even at the time that I was reading the series I had a lot of issues with it to the point that I almost DNFd the series on multiple occasions. The YA tone doesn't appeal to me personally as someone in their mid 20s, the fantasy elements are weak in comparison to other high fantasy books I've read, there are a lot of plot holes and there's way too much romance for my tastes.
I still have fond memories of the series and I'm really thankful to it for helping to get me back into reading and reconnecting with my love for fantasy, but it's just not the series for me.
Snowflake: something beautiful and always different.
Choose a book that stands out, that is different from all the other books you've read.
This is How You Lose the Time War – Amal El-Mohtar and Max Gladstone
I've spoken about this book too many times on this blog but there's no other book I could've chosen for this. It's the most bizarrely unique book that I've ever read. I mean, it's a sci-fi, sapphic, enemies-to-lovers romance about time travelling soldiers written in epistolatory format with ridiculously over-the-top purple prose. It shouldn't work but it does with stunning results.
Snowman: it is always fun to make one with your family.
Choose a book that a whole family could read.
The Little Prince – Antoine de Saint-Exupéry
This was a recent read for me and it absolutely lived up to my expectations. This children's classic follows a prince who travels throughout the universe and meets different people along the way all of whom have a valuable life lesson to teach him.
It's the type of book that's timeless and a brilliant read for all ages. It's accessible for children with cute illustrations but the philosophical themes and humour will connect with adults.
Christmas
Choose a book that is full of happiness, that made you warm inside after reading it.
The House on Pooh Corner – A. A. Milne
Those that follow my blog will know that happy books aren't my thing. I almost exclusively read serious books that feature hard-hitting topics and themes, so whenever I'm asked to choose a book that makes me happy Winnie-the-Pooh is always my response.
The House at Pooh Corner is the sequel to Winnie-the-Pooh and is the book that introduces Tigger. The short tales of the group always cheer me up and it's my go-to comfort read. I've fallen asleep listening to the audiobook more nights than I can count because it never fails to give me that warm feeling inside 🥰
Santa Clause: he brings wonderful presents.
Choose a book that you'd like to get for Christmas.
At the moment, I'm not buying or asking for books to be bought for me. This is due to my physical TBR growing to an uncontrollable size, a lack of space and my aim to use my local library more. So there's no book that I want for Christmas this year.
Snowball fights: it can be painful to be hit by a snowball.
Choose a book that hurt, that made you feel some strong emotion like sadness or anger.
This historical fiction tells the story of a family fleeing Syria for asylum in the UK following the outbreak of civil war. I really connected to the characters and their perilous and horrific journey. There were a lot of painful moments and I cried more than once reading this book. It's definitely a memorable read in terms of the emotional impact it had on me.
Sledging: we all loved it when we were younger.
Choose a book that you loved when you were a child.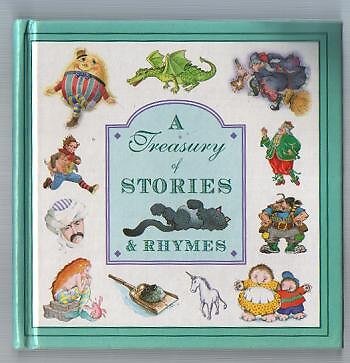 A Treasury of Stories & Rhymes
This is a very niche one because technically it's not a book, it's a collection of short stories and rhymes including Humpty Dumpty, Cinderella, Aladdin and the Magic Lamp, Hansel and Gretel, Rapunzel, Tom Thumb and so many more. I read this book cover to cover everyday as a child loving the combination of stories and rhymes. I also loved the illustrations too. I still have my copy that has my name on it written in pink scented gel pen (I'm the ultimate millennial child 😂).
Frostbite: you don't want to get it
Choose a book that you were really disappointed in.
Anne of Green Gables – L. M. Montgomery
On paper, this book should've been an all time favourite because it has so many of the things I love – countryside setting, found family, friendship, a loveable female protagonist – but it fell completely flat for me. I didn't connect to the characters or the story and was bored reading it.
It felt like such a drab and repetitive book that lacked heart. I'm not sure if it was just that it was the right book but the wrong time, but I definitely wasn't compelled to read the next book in the series.
Reindeer: something that is dear to you.
Choose a book that is of great sentimental value to you.
What Are Friends For? – Sally Grindley and Penny Dann
Another book from my childhood that I'm sure has featured in another post. This is the book I always asked my mom to read me before bed and one that I read over and over. Friendship was so important to me from a young age and I think that I connected to the message of friendship between Jefferson Bear and Twiggy Twosocks. I also loved the illustrations, the characters are so cute.
That concludes the Winter is Coming Book Tag. Happy Winter one and all ❄️
I hope you all have safe, warm homes to keep you sheltered this winter. I know it's a particularly tough one for so many of us with increased costs of living and various crises across the globe 🤍
Stay warm, my lovelies and keep reading.