Where has this year gone? It's absolutely flown by 💨 the New Year is almost upon us and of course that means that it's time for me to share my best and worst reads of the year, starting with the worst 📚
My worst and best reads of the year are my favourite posts to write because it's fun to take the time to reflect back over the books I've read. It can be so easy to read a book and then immediately put it down and forget about it, but writing these types of posts gives me an opportunity to revisit books and remember why I liked or disliked them.
I've read a total 42 books and I'd describe my reading year as okay overall. I definitely don't feel like I have had as good a reading year as I did last year and have read quite a few stinkers that ultimately weren't for me. As always, I will preface this by saying that these books are not bad books, they simply didn't work for me on a personal level.
Here are my 5 worst reads of the year in no particular order.
Birthday – Meredith Russo
This is a YA coming-of-age tale is dual perspective following best friends Morgan and Eric who share the same birthday and have been raised together since they were babies. It follows them for 5 years on their birthday as Morgan grapples with her gender identity and relationship with Eric.
I picked this up because it was a trans own voices story and I wanted to read more LGBTQ own voices books as part of my reading goals. The trans representation was by far the strongest aspect of this book for me. Russo's personal experience as a trans woman enables her to write about the experience in such a tangible and emotive way enabling me to empathise with the trans experience in a way I never have before as someone that's cisgender.
Unfortunately, everything else about this book didn't work for me. One half of the book reads like a morose and serious literary fiction tale examining the complexities of growing up as a trans person and the toll that takes on mental and physical health; the other half reads like a fluffy teenage romance.
Tonally it gave me whiplash and I really disliked the way that it switched gears so abruptly towards the end. I also found the ending forced and a little too good to be true. It felt like Russo was torn between wanting to tell a serious story about the reality of the trans experience and an affirming story of trans joy, and these two things collided in a way that just didn't mesh together quite right.
Annie on my Mind – Nancy Garden
This lesbian classic follows teenagers Liza and Annie as their relationship blossoms. That description is about all I can say about the book because that's all it is. Nothing else happens.
Liza and Annie are undeveloped and dull characters. Their relationship is endearing and I appreciated seeing their struggle in understanding their identities and what it meant for them to be gay in a heteronormative, patriarchal world, but those were really the only redeeming aspects of the book. Liza's narration was so passive and there was some sub-plot at her school with the council which was so dull, like watching paint dry 😴
It wasn't a bad book just incredibly boring. I think that my dislike for this book is part of a wider pattern that I've noticed: I don't enjoy YA or coming-of-age stories anymore. I've reached an age where I can't quite relate to that experience and I'm tired of reading about them. If I'd read this book when I was 16, I think it would've resonated with me a lot more.
Hitchhikers Guide to the Galaxy – Douglas Adams
Does anyone really need a summary of what this book is about? 😂 It's a sci-fi comedy classic that has been adapted too many times to count. It was by far the biggest disappointment of the year for me because I expected this to be a new favourite. My issue with this book is that I JUST DON'T GET IT??????? I really don't know what it was trying to do. It's supposed to be funny… I guess?
I thought it was a bunch of over the top, ridiculous nonsense. I was lost the entire way through and there was nothing for me to attach myself to. I didn't get any of the characters, I didn't follow the story and the humour wasn't my kind of humour.
So essentially, this book didn't work for me on any level and I came away from it very confused by how it's so well-loved. When I feel this way about very popular and loved books it sometimes makes me wonder if I'm just missing something? Regardless, this gets a big thumbs down from me 👎🏻
The Invisible Man – H. G. Wells
Another sci-fi classic that requires no summary. I'll admit I didn't have many expectations with this one, I didn't plan to read it and just picked it out from my online library catalogue because I wanted a short audiobook to listen to whilst I cleaned. And let me tell you, this is the perfect example of why I shouldn't read a book solely because it's conveniently short and I can listen to it in an afternoon 😆
Good God, this book was so frustrating to read. All of the characters acted illogically and were laughable. I couldn't even take the threat of the Invisible Man seriously because it's simply not the superpower that this book tries to portray it as being.
I'm sure when the book was first published it was probably groundbreaking in the sci-fi literary world, but it doesn't hold up for me. It was an entertaining read and it had potential to be really great but it was lacking in substance and I was so distracted by how stupid the characters were that I couldn't take anything seriously 😂
Paul Takes the Form of an Immortal Girl – Andrea Lawlor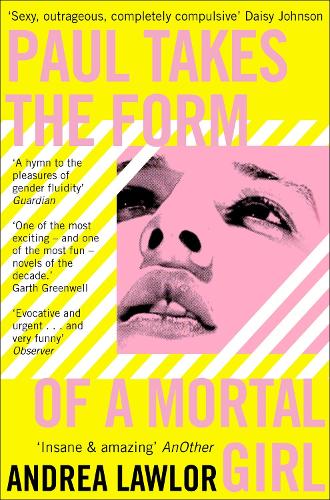 This gender-bending book is a trans own voices story which follows the title character Paul who has the ability to change gender and alternates between living as a man and a woman. I really wanted to like this book because the concept was so intriguing but it didn't work for me on any level.
It's so unique and usually I love that in books, but its uniqueness alienated me from the story completely. I didn't like the magical realism, I found the characters detestable and there were too many sexually explicit sections of the book which felt gratuitous and vulgar. I really didn't understand what the author was trying to achieve with the book. The plot was meandering, the characters were underdeveloped and unlikeable and despite the thematic focus on gender, nothing meaningful was done with it.
I finished the book because I'd bought it so felt obligated to but if it wasn't for that I would've put it down within the first 50 pages. It really wasn't the book for me.
There we have it – my worst reads of 2022.
Unfortunately, I did read quite a few books I disliked this year. I largely put this down to the fact that I'm still trying to work out a method of choosing the right books for me. The broadness of my reading tastes can sometimes make it hard to predict whether I will enjoy a book or not. If you have a strategy for picking your next read, I'd love to hear it 💬
Look out for my Best Reads of 2022 which will be posted tomorrow 👀
Stay safe, my lovelies and keep reading.
Related Posts