This is the partner of my recent post Worst Reads of 2022 where I'll be sharing my 5 best reads of the year. I'm a day later than planned posting because I had an impromptu visit to see my best friend last night and we had a wonderful evening catching up over a Baileys coffee and chocolate biscuits 🥰
As some of you may know if you have read any of my recent posts, I finished my masters in October and found out last week I'll be graduating with a distinction 🎉
Finishing my course has given me much more balance back in my life and I've been reading more. My new approach to reading (read my recent post Rethinking My Approach to Reading here) has also really helped me to reconnect to reading and I've been finding that spark of love for books again 💖✨
Here are my 5 Best reads of 2022 in no particular order.
Homegoing – Yaa Gyasi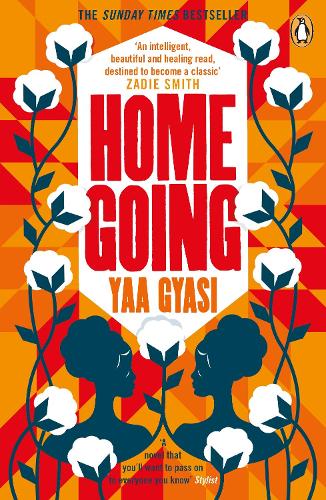 This stunning historical fiction novel sweeps continents and generations and is a breathtaking tale of black history. Each chapter is from the perspective of a descendant of half-sisters Effia and Esi that open the story. It's a complex tale of generational trauma, family, racism, systemic oppression and so much more.
There is truly so much packed into these 300(ish) pages and it blew me away. At first, it was difficult to adjust to each chapter being from a new character's perspective because it felt like I had to leave behind characters that I was invested in. It was also sometimes challenging to keep track of who everybody was. But these minor issues aside, I admired what the author achieved here and was immersed in the story.
The choice to craft this as a multi-generational story was genius because it captured the complexity of generational trauma that is rooted in black communities and families in such a profound way. It delved into what it meant to be black or mixed race across time and space for multiple characters and created such a detailed portrait of the families histories and their interconnectedness. I will definitely be re-reading this book in the future because there's so much here and I feel like I'll appreciate it even more upon re-read.
The Mad Ship – Robin Hobb
This is the second book of the Liveship Traders trilogy and the fifth book overall in the Realm of the Elderlings series. It's a multi-perspective story primarily centred on the Vestrits, a trader family from Bingtown, as they navigate the turmoil of their patriarch dying and political and economic upheaval in their hometown. This really only scratches the surface of what this book is about because it's a chunk. There are also dragons, magical ships and pirates 🐉🚢🏴‍☠️
I enjoyed the first book in the trilogy but wasn't completely sold on it, but the sequel elevated the story to entirely new levels and I was 100% sold. The character development, plot reveals and world building were phenomenal. Despite being 900+ pages I didn't feel the length of it. Hobb's ability to write complex characters is unparalleled and it ended so strongly that I started the final book in the trilogy immediately because I couldn't wait to find out what happens next. A full trilogy review for the Liveship Traders will be coming in the new year 👀
Read my review for the first trilogy in the Realm of the Elderlings series here.
The Tenant of Wildfell Hall – Anne Brontë
This classic novel follows the story of Helen Graham, a single mother that arrives at Wildfell Hall, and causes a stir in the small local community. Slowly, Helen's past unravels and her secrets are revealed.
It's a stunning novel that is beautifully written and thematically powerful. Exploring feminist themes surrounding womanhood, marriage, domesticity and gender expectations, there's so much substance to be found within these pages. Despite being an unlikeable protagonist in many ways, Helen's character was so well developed and felt so real that I couldn't help but feel invested in her story. This is definitely my favourite Brontë novel that I've read after Wuthering Heights.
My Cousin Rachel – Daphne du Maurier
I read this near the beginning of 2022 and it's the first book I read this year that I fell in love with. It tells the story of Philip, a young man in his 20s, who was raised by his cousin Ambrose. When Ambrose passes away under suspicious circumstances, Philip suspects Ambrose's late wife and his cousin Rachel of having ulterior motives.
I loved everything about this book; the tone, atmosphere, plot, writing style, character dynamics. I was completely engrossed. Rachel was a fascinating character and du Maurier did an incredible job of making her feel like somebody I knew and trusted one minute and a complete stranger that I was skeptical of the next. The mystery continued until the end and whilst the ambiguous ending might be a problem for some, it made me love it all the more.
du Maurier gives you everything you need and leaves you to draw your own conclusions. There are so many nuggets of information and clues scattered throughout the text and it's the type of book I would gladly read again and again and get more out of it each time I read it.
The Monk– Matthew Gregory Lewis
An 18th century gothic classic about a rogue monk that commits heinous crimes and a disgraced nun who has a scandalous love affair. Reading really doesn't get much better than this for me 🥲
I was absolutely gripped by this book from the very beginning. Gothic novels are my niche, they are the books I love most and this reminds me why. It's one of the definitive gothic novels of all time with its scandalous and dramatic plot and commentary on corruption in the context of Catholicism. Whilst the wild plot hooked me, the deeper themes within the book are what truly made me fall in love with this book.
That concludes my best reads of 2022 😄
I've read some great books this year, some that have been very impactful and that I'll definitely return to in the future. What were your best reads this year?
Happy holidays, my lovelies and keep reading 🎄🎉📚
Related Posts